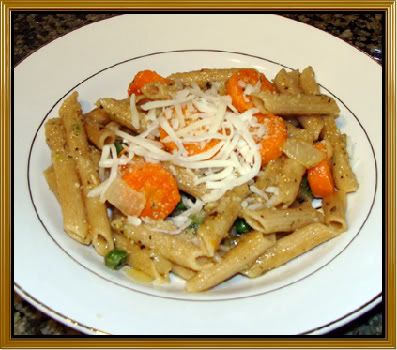 Makes 2 servings. Cost per serving: ~$1.25
4 oz whole wheat penne pasta ($.75)
2 tablespoons olive oil
1/2 onion, yellow or white, roughly chopped ($.25)
1 clove of garlic, minced ($.10)
1/2 cup frozen green peas ($.25)
1/2 cup frozen carrots ($.25)
1/3 cup unsalted butter ($.10)
1-2 T all-purpose flour
1/3 cup grated mozzarella cheese ($.50)
2t dried oregano
1t dried basil
Grated Parmesan and mozzarella cheese for garnish ($.25)
1. Cook 2-3 servings of the pasta according to package directions and drain.
2. In a large pan, heat 2 T of olive oil over medium-high heat. Add onions and garlic, stirring to coat with oil. Add in peas and carrots, then sauté for 3-5 minutes or until veggies are heated throughout.
3. Add butter into the pan, stirring to melt and integrate into the olive oil mixture. Once it has thoroughly melted, add in flour 1 T at a time until sauce begins to thicken.
4. Sprinkle with oregano, basil, and grated mozzarella. Stir until cheese has melted. Serve with grated parmesan and mozzarella garnish.
Approximate Nutrition:
Amount Per Serving
Calories 536.7
Total Fat 48.5 g
Cholesterol 96.6 mg
Sodium 239.3 mg
Potassium 262.9 mg
Total Carbohydrate 19.8 g
Dietary Fiber 4.8 g
Sugars 3.4 g